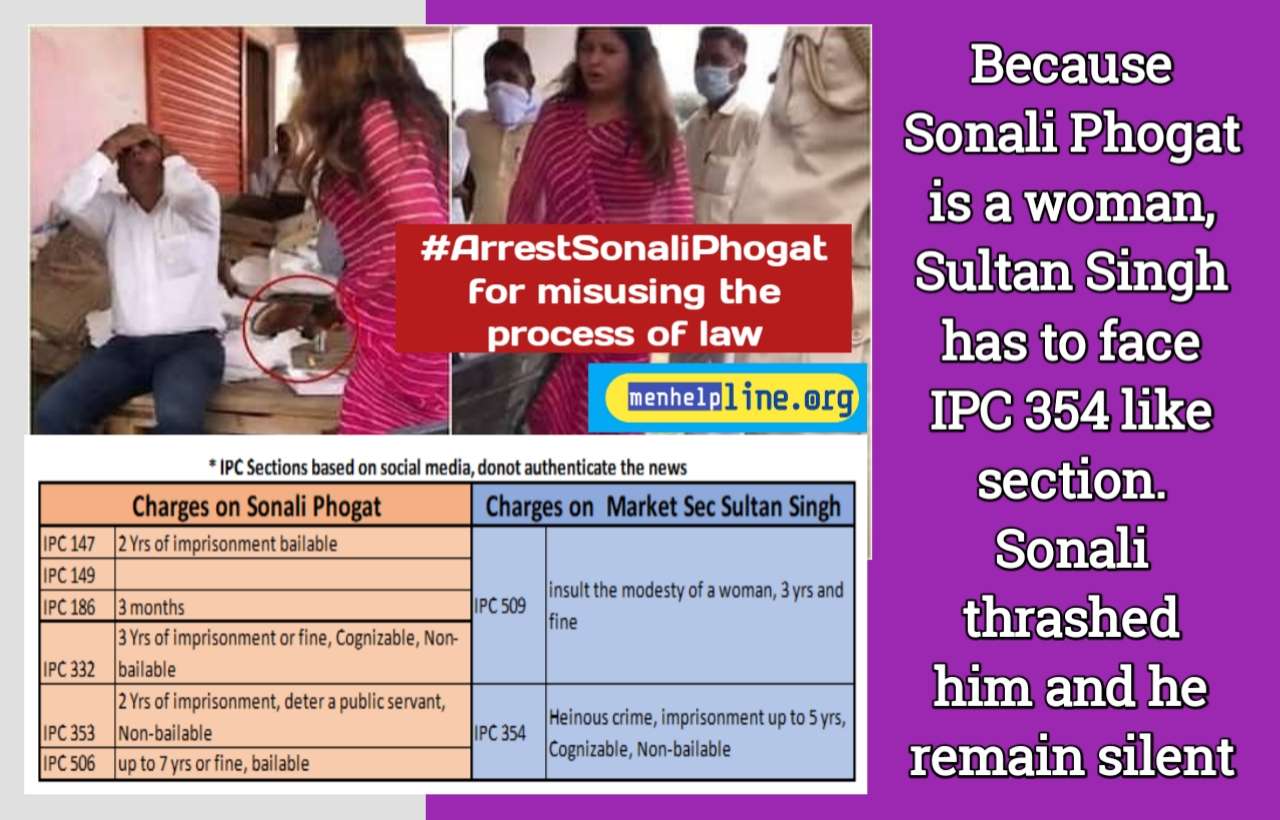 Friday, Sonali Phogat visited Hisar market concerning the farmers grievances but the way she tried to politicise her visit is Not commendable. Men Helpline condemned such behaviour of Sonali Phogat for misusing the process of law to harass a man.
Phogat called the market secretary Sultan Singh in private and then accused him of using inappropriate language for her. So if this was public visit in the market, why you took him in private. The important thing is that Singh was very cooperative and polite all the time and even then when you were beating him, why did he suddenly loose the tempo in your private discussion.
After looking at the entire scenarios and link every aspect, it appears that you went there to satisfy you personal reasons. It was more influenced by your personal reasons while you fraudulently projected your visit an official one.
How can you thrashed any citizen just for your personal reason, who is officially deployed and working honestly. Even you misused the process of law which has essentially made to protect women. Madam you was there with 2-3 four wheeler with more than 8-10 young guys, and you stating it was a official visit.
Men Helpline condemned any kind of shame and harassment with men, just to satisfy their personal vendetta. This is again a human rights violation that, she publicly shamed Mr Singh for the crime he never did.
We being a mens rights organisation, demand Hisar police to arrest Sonali Phogat for thrashing, abusing, stopping a public servant to work, misusing the process of law and institution of criminal proceeding by falsely accusing a person.
We request BJP Haryana wing to suspend her for lifetime from party for the above said conduct. That she was a TikTok star and she made the life of Mr Singh a TicTok, who was forced to feel ashamed for the act he did not committed. He has been shamed in public just because he is a man and Phogat successfully able to shame him because she is a woman.
Attached here Twitter link for reference.