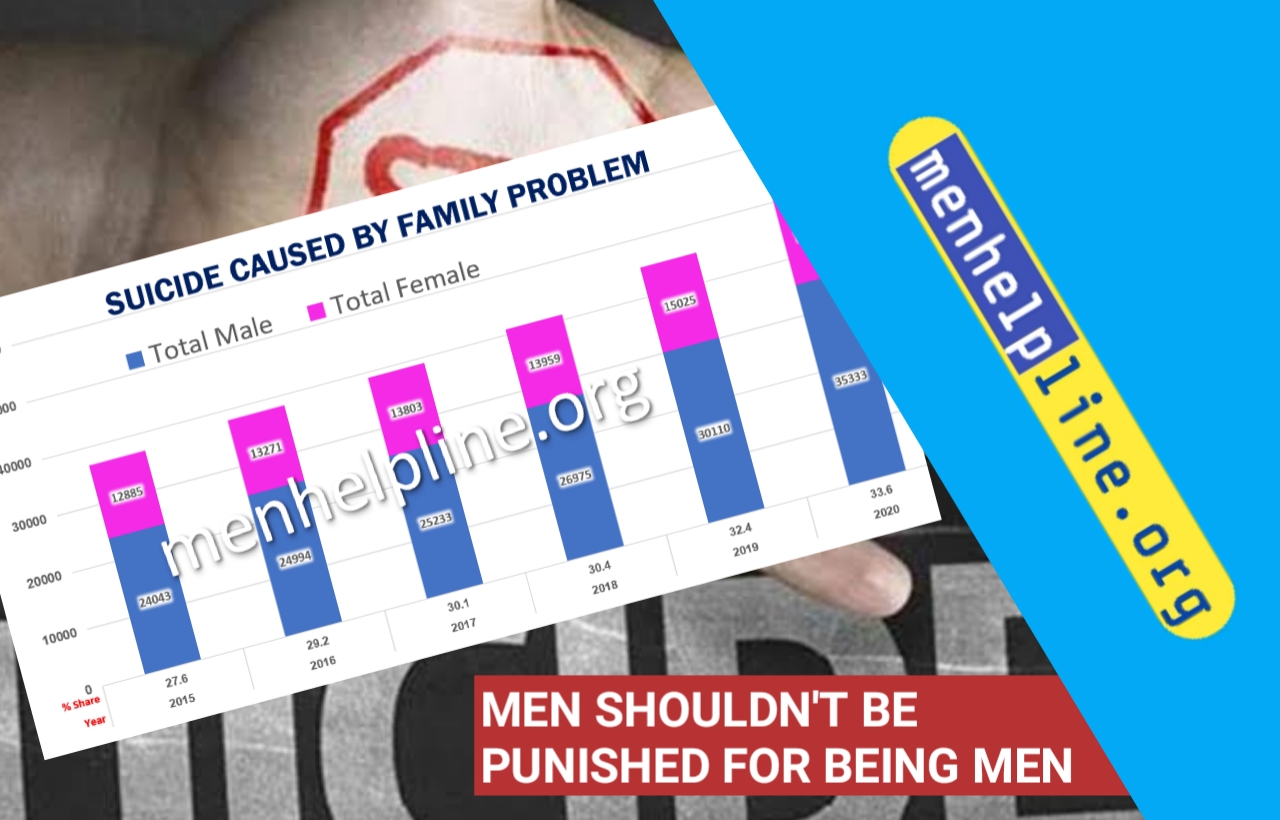 According to NCRB data, every 5 minutes one man is committing suicide and every third suicide is due to 'family problem'.
There has been a significant increase in suicide among men during the decade (2010-2020) revealed in the NCRB Suicide data 2020. NCRB recorded 87180 suicide among men in year 2010 and 108532 in year 2020.
The NCRB data shows that the number of male suicides due to 'family problem' in 2020 is more than the total number of suicides recorded in the year 2010 under 'family problem' alone. In year 2010, total 31856 suicide was reported out of which 19828 were male.
After having such an alert, men are still not have any protection of law to protect them from false accusations of women.
After having such an alert, men have no protection of law to protect from false accusations by women. We have interacted with thousands of male victims, all of them share the similar concern that 'the system treats them guilty' and they feel lonely, upset and hopeless in such a negative situation.
The law believes in the testimony of women, and if the husband fails to reconcile the circumstances with the wife, it leads to many legal cases against the husband and relatives, which in turn lead to multiple levels of harassment to the men and family. The major reason for getting upset is that men try to settle the situation for the sake of their family and children, but women have the protection of laws and they humiliate men in such circumstances.
We urge the government to look deeply into the data and take a stand that will help men in such a difficult situation and also issue guidelines to protect men from the abuse of the process of law. We also demand that the arrest should be on the basis of physical evidence and not on the basis of which is not mentioned in the book of law, such as on sentimental grounds.
We strongly believe in the Constitution of India that "everyone is equal before law", so our system should be designed in a way to ensure "Justice for All".